The cutlery is produced in stainless steel (18/8)
The cutlery was launched in Denmark in 1953, as was sold by Illum and A/S Difa (an association of hardware stores). Illum had the exclusive rights to sell it in Greater Copenhagen, while A/S Difa got the exclusive rights outside of Copenhagen.
Illum arranged a competition amongst their customers to find a name for the cutlery, and the winning name was "Langelinie".[2]
Illum advertised the cutlery in the Christmas catalogs in 1953 (see section), 1954, 1955, 1956, 1959, 1960 and 1961, and in their spring catalog in 1955. In 1954 the cutlery got company of a series of glasses (designed by Per Lütken), which was also under the name Langelinie. And in 1956 a dinner-, coffee- and tea-service (designed by Heinz Löffelhardt) was added to the family.
I don't know how long you could by Langelinie in Denmark, but I'm quite sure, that the sale stopped some time before the production officially stopped in 1998.
Hackman is today part of Fiskars Group, and around 2016 the cutlery was relaunched under the brand Iittala. The new version is slightly larger than the original version. And it is not all parts, that are part of the relaunch.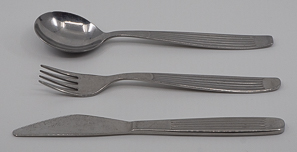 The Langelinie cutlery has also been copied. An example is from (Poland). The shape itself is the same as Langelinie, except the blade on the knife, which is more triangular. And the lines on the handle do not go all the way down to the bottom, as they do on Langelinie.
The secondhand prices in Denmark is around 15-25 DKK/pc. for standard (dinner) knife, fork and spoon. The larger/special pieces can fetch up to 100 DKK (depending on how rare they are). Sometimes you can be lucky and find a single knife, fork or spoon in a mixed box at a flea market for 5 DKK [Source: Flea markets and various online auctions]
Should you have any corrections to the information on this this page, or should have some Langelinie cutlery, you are considering getting rid of, please contact me. Should you be missing pieces for the cutlery, I may also be able to help you with that.
Sources:
[1] Supreme Court ruling from October 26th, 1961 regarding alleged copying of design (UfR U.1961.1027H)
[2] Former employee in the Illum's advertising department.